Candidate for U.S. Congress - District 14, Robert Thomas, has served as a Councilman for the city of West Columbia, Texas for the past 21 years. Candidate Thomas is the Board Director for the city of West Columbia Economic Development Corporation and is a member of the Capital Improvement Committee. Robert Thomas is a past Lion Club President and Secretary. He has always placed service and education at the top of his list by being associated with several service and educational organizations, such as a member of the Board of Directors for Communities In School, a member in the Chamber of Commerce of West Columbia, and an Adult Sunday School teacher at the Church of Christ in Sweeny, Texas. He is a graduate of Prairie View A&M University and holds a Bachelor of Science degree in Computer Science. While at Prairie View A&M University, Robert (Puga) Thomas also became a member of Phi Beta Sigma and Phi Beta Lambda fraternities. He holds a certificate in certified Russian language from Rice University and has recently retired from Johnson Space Center as a Software Engineer in Mission Control and Simulation Astronaut Training. Robert Thomas now serves as an Assistant Adult Probation Officer (drug testing) in Brazoria County. He enjoys serving his town by bringing prospective events to the city, such as the outdoor activities as the Vice President of Betty Love Trail Riding Club. Robert Thomas has built his life in service to others, with a deep-rooted love for and devotion to District 14.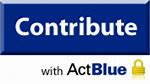 Or Mail Contribution to:
RobertTcampaign
P. O. Box 316
West Columbia, Texas 77486
Robert Thomas for U. S. Congress - District 14
(Brazoria County, Galveston County, and Jefferson County)
Robert Thomas for Congress' primary objective is to make a positive impact on the entire economy in a more educational and political way while adding value to our social and economic environments. This program will help to create employment opportunities with significance on producing a strong economic environment.
Robert Thomas for Congress Vision Statement
We are an innovative, professional, ethical, and knowledgeable provider of specialized services to the community. We will continue to look for opportunities to extend our information through market development and creative partnership alliances.
Robert Thomas for Congress Mission Statement
"We offer full political education support to the communities, voters, and taxpayers, with expectation of a potential ownership society."
Robert Thomas for Congress Values Statement
Leading by example - we lead by example and are role models for excellence.
Results-Driven – we go the extra mile to achieve results on time.
Partnership focus - our partners are the reason for our existence, and we; therefore, always endeavor to delight them by exceeding their expectations.
Care and respect for others - we foster diversity, value our partners and their contributions, and treat them equitably, fairly, and with dignity, care and respect.
Excellence - we strive for excellence in all we do.
Teamwork - we take joint responsibility through teamwork.
Integrity - we adhere to the highest standards of conduct and moral behavior, and maintain the highest level of ethics in all our actions.
The Goals of Robert Thomas for Congress are: